Ahmed Bukhatir -
أحمد أبو خاطر
Ahmed Bukhatir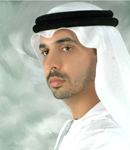 Name : Ahmed Bukhatir
Country : UAE
Hits : 244851


Biography of Ahmed Bukhatir
Advertisement

Ahmed Bukhatir is a chanter from UAE, born on 1975 in Sharjah to a famous family.
Graduate in management, Ahmed Bukhatir is an employer of his father's Bukhatir Goup.
Ahmed Bukhatir began singing in 1989. He soon released albums "Fartaqi", "Samtan" and "Da'ni" which were widely distributed and began participating in shows and festivals: "the Holy Qur'an competition of Sharjah" in 2002 and of Um al Quwain in 2003 and Festival of Grand Prosperity Basket in 2004. Later, he was touring many UAE cities to give shows that were attended by eminent Sheikhs like Mohammad Bin Rashid Al Maktoum and Abdul Rahman Al Sudais.
Shortly, Ahmed Bukhatir shows in London, Canada, Australia and other countries.
Photos of Ahmed Bukhatir
Discography