Nabil Ar Rifai -
نبيل الرفاعي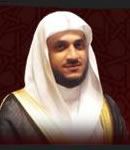 Country: Saudi Arabia
Hits: 392475

Advertisement


Biography of Nabil Ar Rifai
Nabil Ar Rifai, born Nabil Bin Cheikh Abdul Rahim Rifai, is a Saudi Qur'an reciter born 1398 Hijri in Jeddah.
Cheikh Ar Rifai learned the Holy Qur'an from such eminent professors and Cheikhs as Cheikh Abdel Aziz Ramadan, Cheikh Abdel Wahab Hadiri and the late Cheikh Ali Jaber.
Nabil Ar Rifai is a graduate of the Engineering Faculty of King Fahd Abdul Aziz University. In 1415, Cheikh Nabil Ar Rifai began leading Tarawih prayers in the Ramadan Mosque of Baghdadia.
Photos of Nabil Ar Rifai
Download quran recited by Nabil Ar Rifai
Download quran recited by Nabil Ar Rifai
Comments