Mishary Rashid Alafasy -
مشاري بن راشد العفاسي
Mishary Rashid Alafasy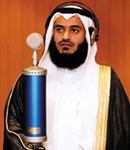 Name : Mishary Rashid Alafasy
Country :
Hits : 636190


Biography of Mishary Rashid Alafasy
Advertisement

Sheikh Mishary bin Rashid Al-Afasy or Mishary Rashid Ghareeb Mohammed Rashed Al-Afasy is a Kuwaiti international-renewed recite and chanter. He was born in Kuwait on September 5th, 1976 (Sunday 11th of Ramadan 1396 H).
Mishary Rashid Al-Afasy made his Quran studies in the College of the Holy Quran and his Islamic Studies about "the ten readings and translations of the Holy Quran'' at the Islamic University of Madinah (Kingdom Of Saudi Arabia).
Mishary Al Afasy is now the Imam of Masjid Al-Kabir (Great Mosque) in Kuwait City and leads the Taraweh prayers of Ramadan in the same Mosque.
Other than an outstanding Qur'an reciter, Mishary Rashid Al Afasy is an acclaimed chanter with a beautiful, melodious voice. His tracks "Ossalli Alayk", "Anta Rahmani", "Ara Aldonya" were very well welcomed by a large public. His "Asmae Allah Al Hosna" is an inescapable of religious songs.
Sheikh Alafasy is married and has two daughters. He's also nicknamed Abu Nora.
Photos of Mishary Rashid Alafasy
Discography